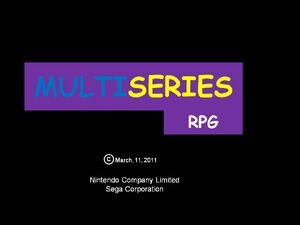 Welcome to the MultiSeries RPG Wiki
Edit
MultiSeries RPG is a RPG saga that exist in my imagination. I imaginate "was created by Nintendo", and have Sega Corporation.
My launch day is March, 11, 2011 (2 years)
It have 1 videogame launched:
MultiSeries RPG: The Secret of the Lightsabers
And 2 coming soon:
MultiSeries RPG: Let'sa go to Brazil! (this game will get launched before 2014 World Cup Brazil)
Describe your topic
Edit
Write a description about your topic. Let your readers know what your topic is about and add some general information about it.
Latest activity
Edit